kalau sebelum ni aku ada buat status FB cakap
'spending times with bestfriend is the best-est times ever'
'bukak MySpace, tengok gambar lama dan rindu Revival'
oh, tak bermakna aku takde goodfriends in UM
mannn, they are good jugak okayyy
no more high school friends all the time
move on people.
'Nadia, jom pergi jogging jom.
jogging Nisa maksudnya kita jalan around UM lah.
HAHA tapi okay apa, ikut laluan jogathon.
ajaklah Dila sekali. Shaz maybe join us jugakk'
dua minggu lepas lagi, tapi kasut sukan aku koyak
dah beli baru dah, semangat kot Papa beli bila aku cakap aku masuk Larian Gemilang.
siap suruh pakai jersi Argentina dia lagi time lari nanti.
Paaaa, jersi tu besar gedabak kot, ingat Ya ni besar sangat ke?
-.-'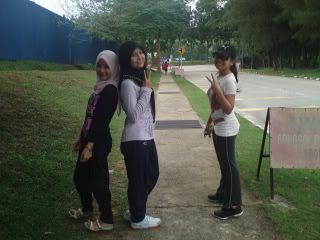 Chewey, Wendy, Nisa
Shaz takdapat join, teman kawan dia
Dila pon takdapat, ada Basket
soo, the hot issues we're talking about
i) apply apa UPU? nak jadi apa nanti?
kadang-kadang aku benci bila orang tanya aku soalan ni, sebab aku sendiri taktau.
shishhhh I have to face the fact that now is 2011 and I'm 19 and I'm gonna continue in degree just for another few months. errrgggghhh :/
ii) no more istilah belasan tahun after this
ini pon tak suka jugak. derrr aku dah tua
rasa macam baru habis SPM semalam :(
iii) Bidasari
cakap sikit siapa yg tak bercakap pasal ni?
duhhhh, pergi mati lah Bidasari
kau buat aku tak senang gerak lah.
(just so people know, dia dah ade di tingkat 8 -.-')
iv) masing masing perasan gemok
benda sekarang diaorang tu badan macam lidi aku tengok -.-'
oh and, mereka cakap
' NADIA NAK KURUS APA LAGI DOH. NADIA DAH KURUS KOT'
Nisaaa, thank you so much. sayang Nisaaaa :D
so friends, baca tu and take note.
v) PLKN
Nisa je yang tek pergi
so dia je yang diam
vi) masing-masing dah ada boypren
okay, turn aku pulak diam
nak aku cerita pasal siapa? :/
'Nadia kenapa tak couple?'
penat dan malas
simple :)
banyak actually tapi malas lah nak ulas satu satu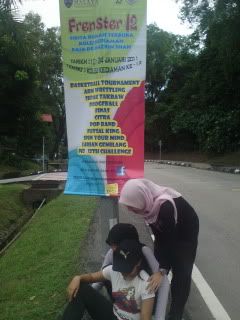 Nisa jatuh, sibuk sangat nak ambik gambar. HAHA
OHMAIIII, pipi akuuuu :O
I'm enjoying my last days in UM
and I will keep the memories