she is the one who will always be there whenever I need shoulder to cry on.
I LOVE YOUUUU SISTER, forever will.
okay, dah macam pakwe lah pulakk. eh, she is my gay partner apa? part-time job :D
terima kasih sebab layan aku menangis kesakitan dulu
terima kasih sebab kasi tumpang nak iron baju dulu :D
terima kasih sebab dengar semua masalah aku walaupun aku tau kau tak dapat nak tolong
terima kasih for calling me, and answering my call
terima kasih memperkenalkan aku dengan bahasa
budi
:D
terima kasih buat aku ketawa dengan keparanoidan kau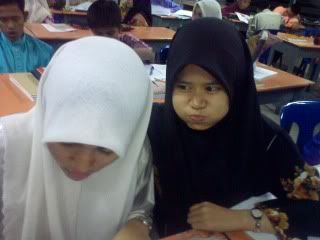 soo dear,
- be happy di Penang
- jangan paranoid paranoid
- be loyal with your beloved Arif.
I know you will :) dia sayang kau so jangan paranoid. take one step at a time, there is no need to rush. buktikan kat guru SMSS yang bercinta time sekolah boleh sampai kahwin! I will always pray for you honey :)
forever always <3
I

LOVE
YOU
DAMN MUCH,
AMIRAH BT BAHRAIN
too many things to say actually but, aku online sorok sorok. so nie semua apa yang came into my mind spontaneously.
last but not least
HAPPY BIRTHDAY

TO YOUU LOVE :)
sooo, who will be my soul brother? soulmate? WILL BE CONTINUE :)